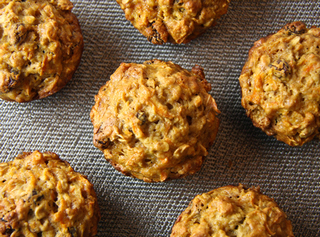 Many of my (new) clients often struggle to eat a good breakfast. I have heard all the excuses! Slept late, can't eat anything in the morning, I don't have the time :0
Firstly let us understand that we all have the same 24 hours. You, me, the President, the Olympic athletes. I work 12-13 hours per day, so If I can find the time…so can you! 
Get organized, get prepared, and get serious.
This recipe is easy, delicious and a good alternative to many of the high fat, high sugar options.
Preheat your oven to 400 Degrees F and coat a muffin pan with cooking spray.
In a large bowl, whisk together:
1 1/4 whole meal flour

1/2 cup dark brown sugar

1/2 teaspoon baking soda

1/2 teaspoon baking powder

1/2 teaspoon nutmeg (they also taste great with cinnamon in place of nutmeg!)

1/2 teaspoon coarse salt
Stir until there are no lumps.
1 cup old-fashioned rolled oats (I use Flahavans Progress Oatlets)

1/2 cup raisins
3 tablespoons extra-virgin olive oil

1 large egg

1/3 cup skim milk

4 medium carrots, grated

1 medium ripe banana, mashed
Stir until blended.
Fill 12 muffin cups with 1/4 cup each of batter. Bake in the preheated oven until a toothpick inserted into the center of a muffin comes out clean, about 23 to 25 minutes.