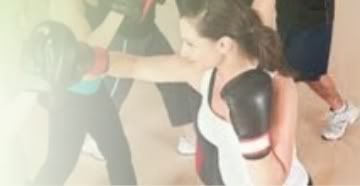 What is Box-It?
Box- IT is a unique form of fitness training designed to work every major muscle in the body while also burning more calories than any other programme in a standard 45 minute session. Each student is partnered up and every module involves the use of focus pads.
What are focus pads?
Focus pads have been used for over 100 years as the main training equipment for boxers. They can be used for striking, using hands, elbows, knee's and feet.
Will I be fit enough?
Each class is designed so that every technique used can immediately be adapted and/or progressed to suit the students fitness level.
What is the duration of each class?
Each class is 45 minutes, which includes a 5 minute warm up, 5 minutes stretch, main phase 30 minutes and a 5 minute cool down.
Does it include exercises to work my stomach muscles?
Yes, the class works every major muscle group, with a large emphasis on toning the abdominal area.
What do I need to bring?
A towel, water and the will to train.
Venue: Hard Target School of Self Defence Times: 7.00pm – 7.45pm
Dates: February 13th – April 16th
Time: 7-7.45pm
Price:€100 for members and €120 for non members or Drop in for a Class even if course has begun and pay on the night.
Venue: Hard Target School of Self Defence
FOR MORE DETAILS:  HARD TARGET SELF-DEFENCE 
OR TO BOOK YOUR PLACE
Contact – info@hardtargetselfdefence.com OR