Many of my Personal Training clients ask about mycoprotein – namely Quorn.
I personally use it a lot as I very rarely eat meat of any kind and I highly recommend you try it out.
So what is Quorn (mycoprotein)?
Mycoprotein is the main ingredient in all Quorn products. It's made from a member of the fungi family (like mushrooms and truffles) and is a high-quality meat-free protein that's naturally low in fat, with very few calories. It's high in dietary fibre (important for your digestive system) and has the essential amino acids your body needs, with no cholesterol or trans fats at all.
This means that Quorn ingredients and meals tend to be lower in saturated fats and calories than similar foods made with meat – as well as being delicious!
Below are some great meals to try. You will be surprised how easy they are to make and how delicious they taste.
A recent study showed that mycoprotein actually helps to lower cholesterol.
Singapore Noodles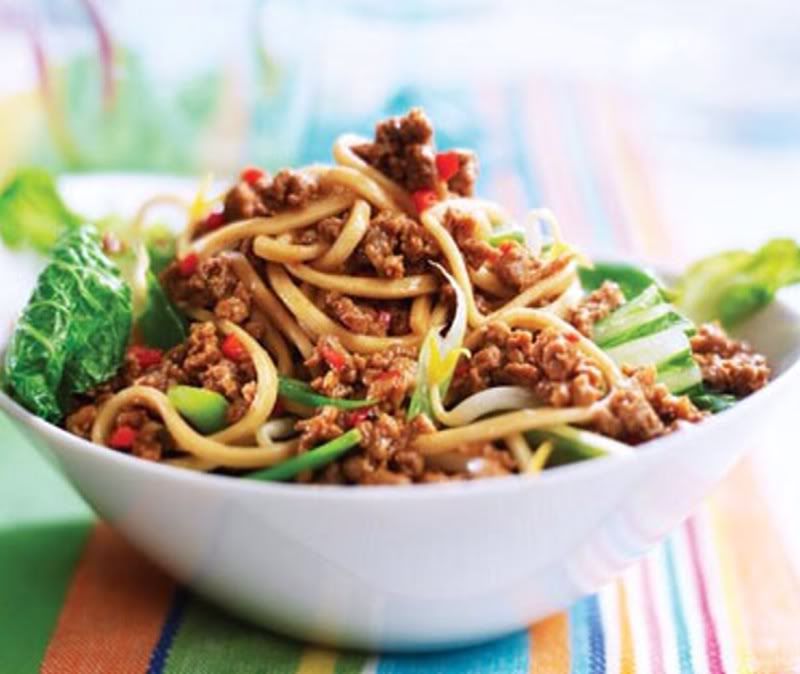 Ingredients
175g pack Quorn mince
2 blocks dried medium egg noodles
3 tbsp. hoisin sauce
2 cloves garlic, crushed
2 tbsp. rice wine or dry sherry
1 red chilli, seeded and finely chopped
1 tbsp. light soy sauce
1 tbsp. vegetable oil
4 spring onions, trimmed and chopped
50g mange-tout, halved lengthways
75g beansprouts
125g pak choi, chopped
Simply delicious, this is a great combination!
Preparation Time: 10 Minutes
Cooking Time: 5 minutes
Difficulty: 1
Serves: 2 to 3
Let's Cook
Begin by heating a saucepan of water and when the water boils, cook the egg noodles as per the back of pack instructions.
Combine the Quorn mince, hoisin sauce, garlic, rice wine, chilli and soy sauce, mixing well, set to one side.
Heat a wok adding the vegetable oil. When the oil is hot, toss in half the chopped spring onions and the mange-tout and fry for a minute, then add the bean sprouts and pak choi, continue to cook stirring all the time for a further minute.
Lastly add the Quorn mince and continue to cook over a high heat for 2 minutes then toss in the cooked drained noodles.
Fork through and serve immediately garnished with the remaining spring onions.
Quorn Cottage Pie
Ingredients
For the topping
700g potatoes, peeled and roughly chopped
225g parsnips, peeled and chopped
2 tbsp. semi-skimmed milk
Filling
350g Quorn mince
1 tbsp. vegetable oil
1 medium onion, finely chopped
1 medium carrot, finely chopped
100g frozen peas or mixed veg
400ml vegetable stock
1 dessertspoon vegetarian Worcestershire Sauce* optional.
1 tbsp. tomato purée
2 tbsp. salt reduced soy sauce
1 tbsp. corn flour mixed to a paste in 1 tbsp cold water
salt and freshly ground pepper
A tasty easy to prepare comfort food supper for all the family.
Preparation Time: 20-25 Minutes
Cooking Time: 20 Minutes
Difficulty: 1
Serves: 4
Let's Cook
Preheat the oven to 180°C, Gas Mark 4
Boil the potatoes and parsnip until tender. Drain and set aside.
Meanwhile heat the oil in a saucepan, add the onion and the carrot and fry gently until softened.
Add the Quorn mince, frozen veg, vegetable stock, vegetarian Worcestershire sauce, tomato purée, soy sauce and seasoning. Simmer for 5 minutes and then add the cornflour made into a paste with the tablespoon of cold water and continue to simmer gently, stirring all the time, until thickened. Place in an ovenproof dish.
Mash the potatoes and parsnip with the milk until smooth, season to taste with the salt and pepper. Place the topping over the Quorn mince filling and fluff up with a fork.
Bake for 20 minutes until the topping is crisp.
Serve with a selection of fresh vegetables.
NUTRITIONAL INFORMATION
per serving
Energy: Kj 1448/Kcal 345
Fat: 5.8g of which 0.9g saturates
Sugar: 10.6g
Sodium: 1.2g